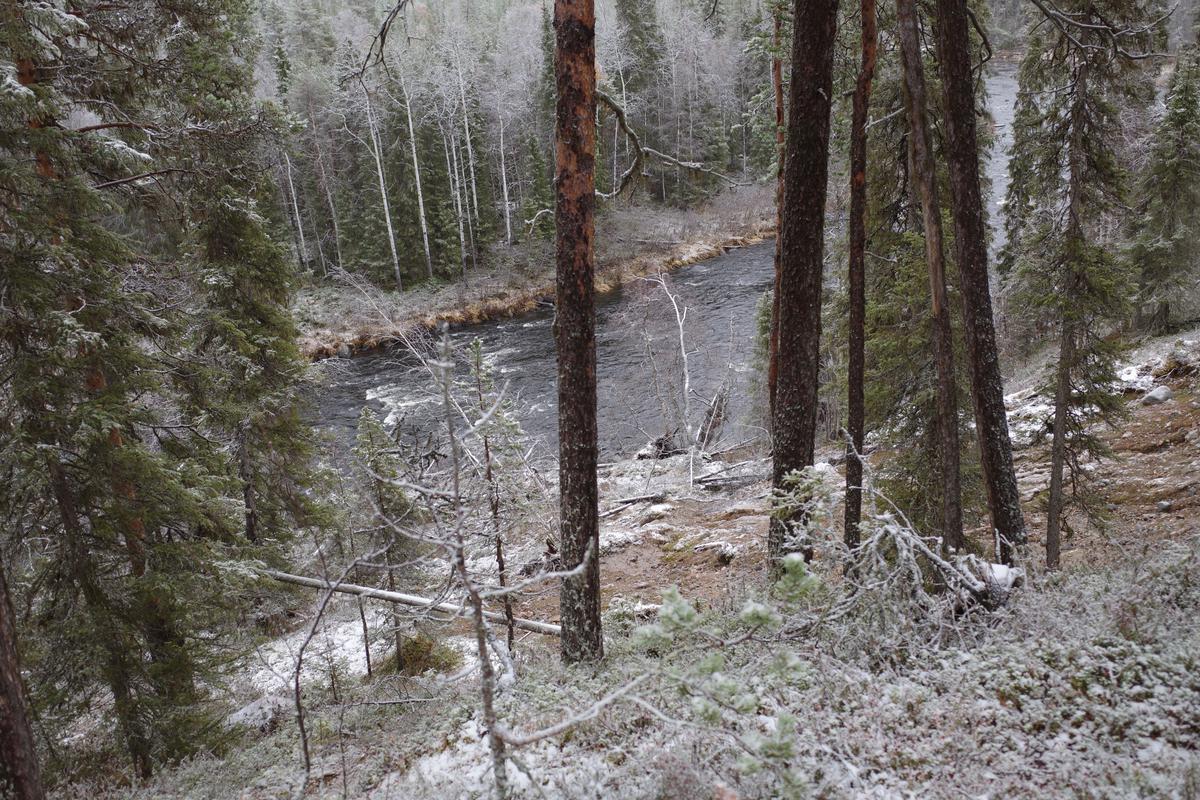 This post continues from where part 1 ended.
Day 2 - From Perttumakoski lean-to to Taivalköngäs hut - 13 km
The night was cold and I woke up before the sunrise. My mornings tend to be slow: I took my time packing up the very wet tent and making some porridge. A hour and a half later, the sun had already risen and I started walking.
The trail follows the Oulankajoki river. It took me to a high hill on the side of the river valley and to the first sight of the trail: the Rupakivi rock in Oulankajoki. In photos, you usually see it from the flat angle, but because the trail goes high, you approach the rock by descending a set of stairs. You get to properly see how weirdly shaped the rock is.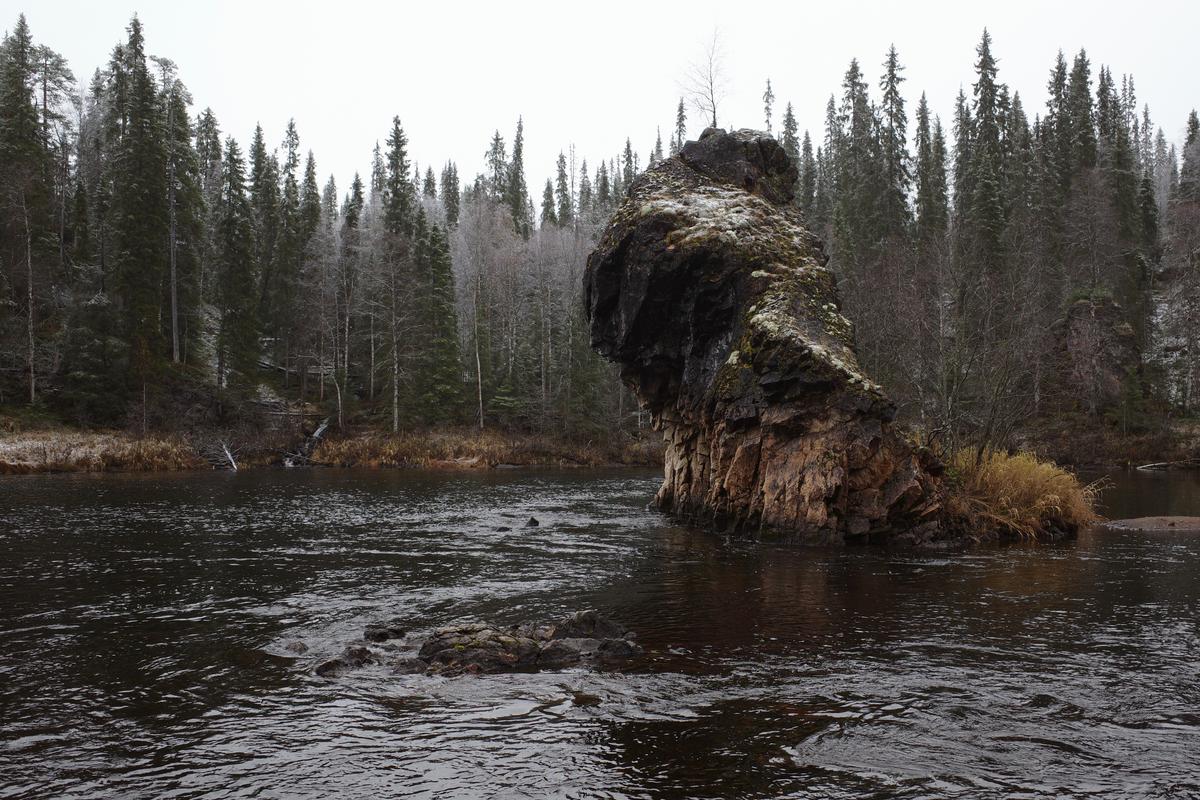 Unfortunately there are a lot of trees and they prevent getting nice photos from the hill. If you want to see it properly, you just have to go there!
Around the lunch time I reached the Savilampi wilderness hut. Before cooking a lunch I climbed up on the north side of the Oulanka canyon. The ascend is steep and you'll likely come back the same route, so I recommend leaving your backpack at the hut.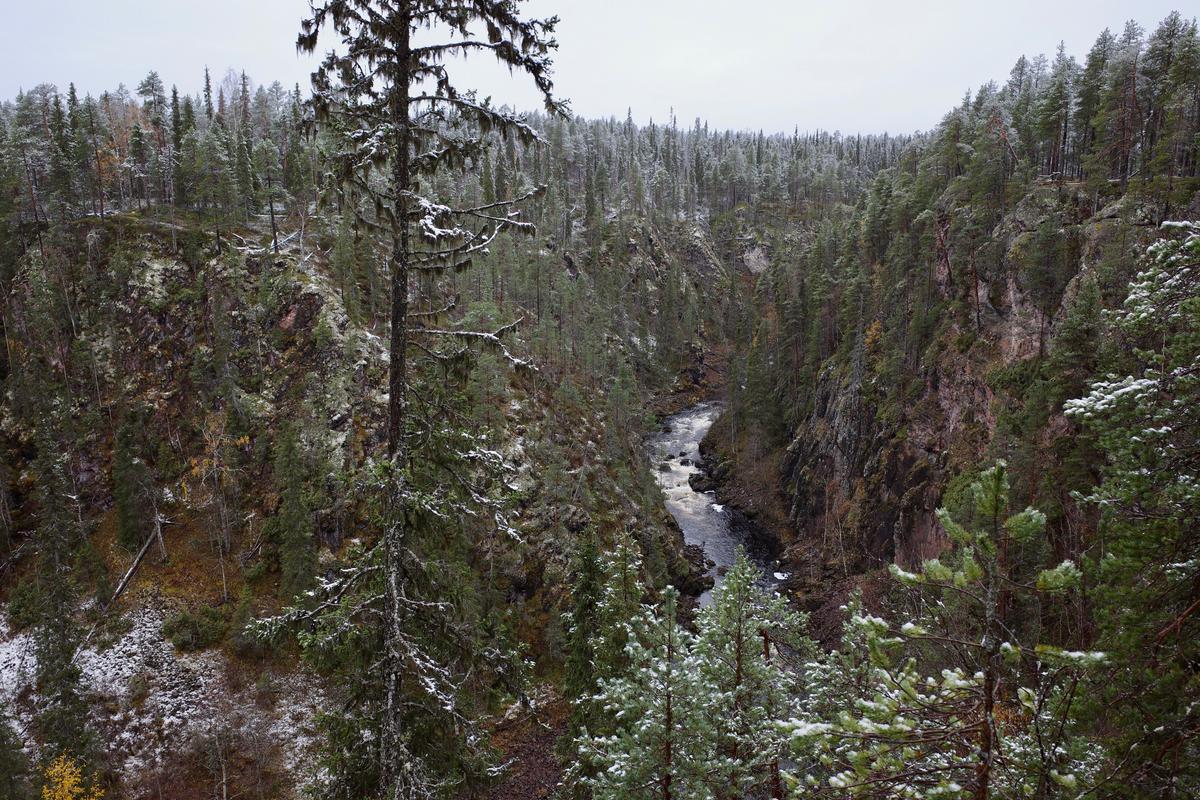 The view was spectacular! This was my favorite sight along the trail. You do not have to hike the whole Karhunkierros to see it – there's a parking spot nearby. It would make a nice dayhike.
I returned to the hut and made some lunch. At the hut I met one of the many families with kids who were on an overnight trip to hike a section of the trail. There were a couple of huskies, too. People love to hike with their dogs, it seems.
The water from the river is potable after boiling. All the huts have gas stoves. My friend Mäkipää borrowed me a tiny canister stove. It's small and light and it took seemingly forever to boil a litre of water when outside and snowing. In warmer weather, it's probably great, but I wouldn't want to take it to any colder situations. I used the stoves at the huts as much as possible.
After lunch, I continued to the Taivalköngäs wilderness hut and arrived there early at around 15. The distance for the day was short, but I was still a bit shocked by the hike so I was happy to stop there. It's a picturesque place: the hut is next to little rapids and there's a rope bridge across the river.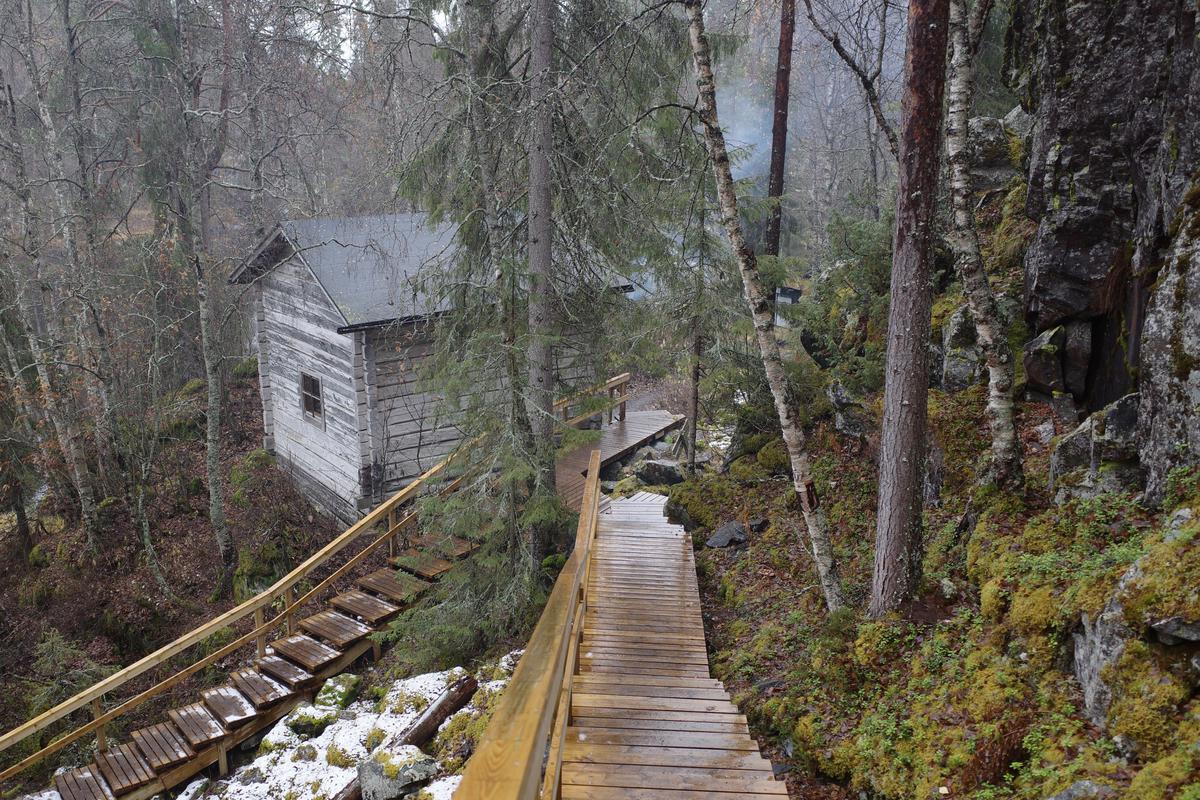 Again there were a couple of dads with their kids. Hikers kept arriving. We had a full house for the night and one group of late arrivers even set up a tent in the yard. In theory the people who have been at the hut the longest should make room for the newcomers, but in practice nobody is going to get kicked out in the middle of night.
Day 3 - from Taivalköngäs to Ansakämppä - 17 km
Even though we were sleeping inside a hut, I had a cold night. I woke up grumpy and with a headache. Probably it was because of a some combination of dehydration, caffeine withdrawal, and a smoky hut.
I stepped out of the hut to get some water and was met by a surprise: there was snow. It was a Full HD winter wonderland situation.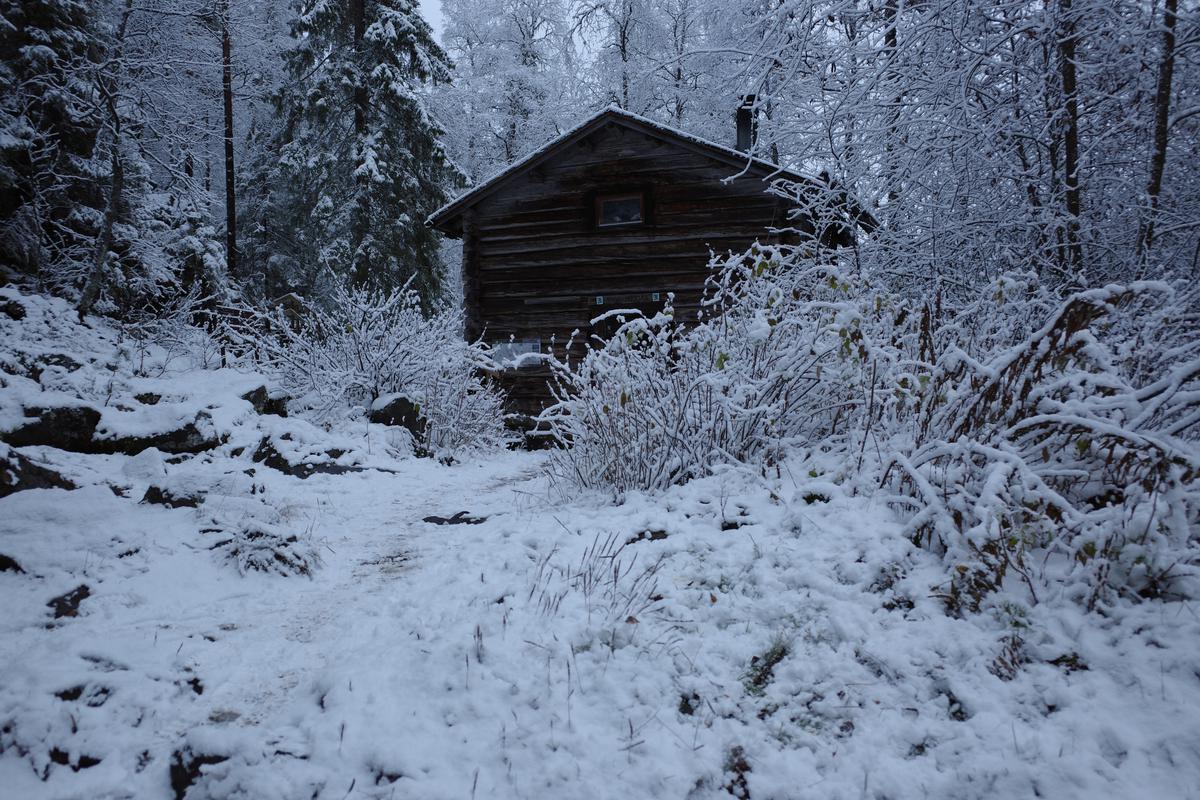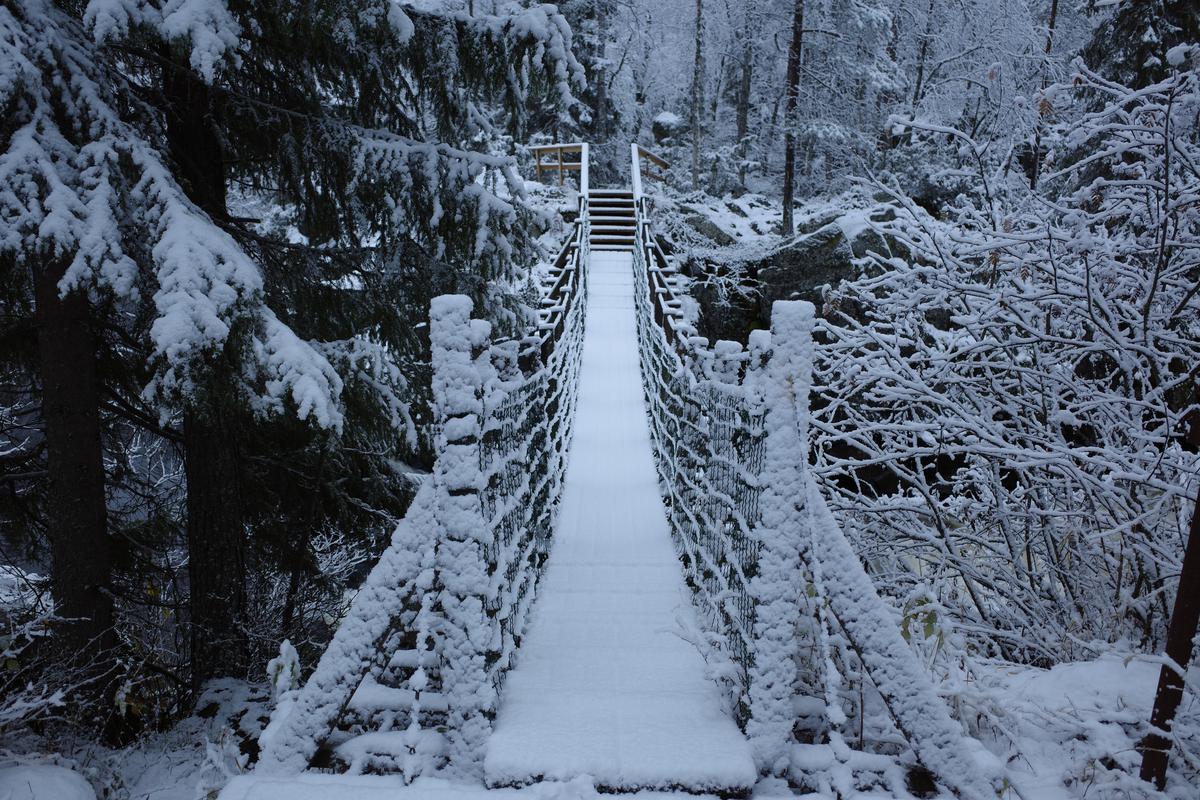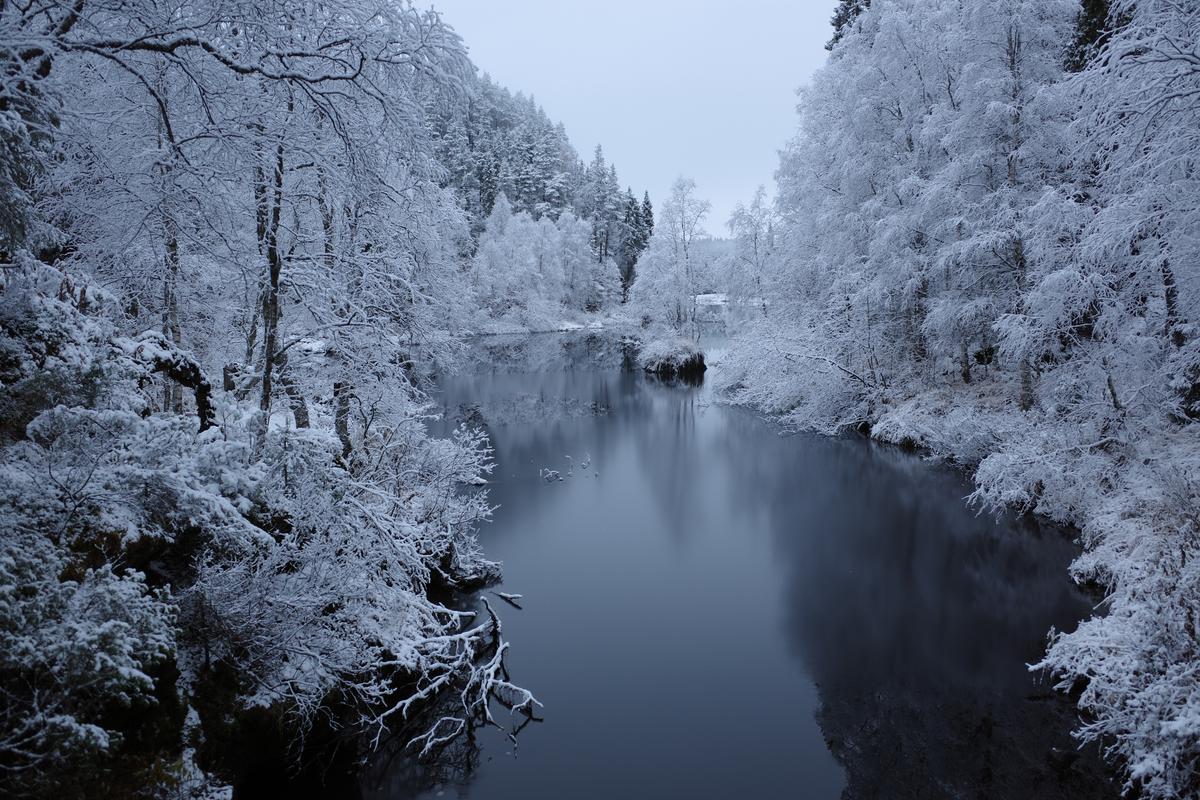 After some porridge, I started walking. I could see from the fresh snow that I was the first person to hike the section from Taivalköngäs to the next lean-to shelter that morning. Only a squirrel and some reindeers had been there before me. It was delightful, but still it was one of the hardest sections mentally. After the poorly slept night I was in a really bad mood and even considered giving up once I reach Oulanka Visitor Centre.
Once I finally got to the visitor centre, I decided to have a long lunch and ordered a burger and a couple of cups of coffee. After eating, drinking, and resting for two hours my mood had improved considerably. I started walking again and finally got into the proper hiking state of mind, where you stop thinking about how long it is left and start to just enjoy being there.
Right after the visitor centre there are the Kiutaköngäs rapids. It's another highlight of the route: a canyon with huge rocks and strong whitewater. You can easily get there by a car and there were a lot of visitors and dayhikers.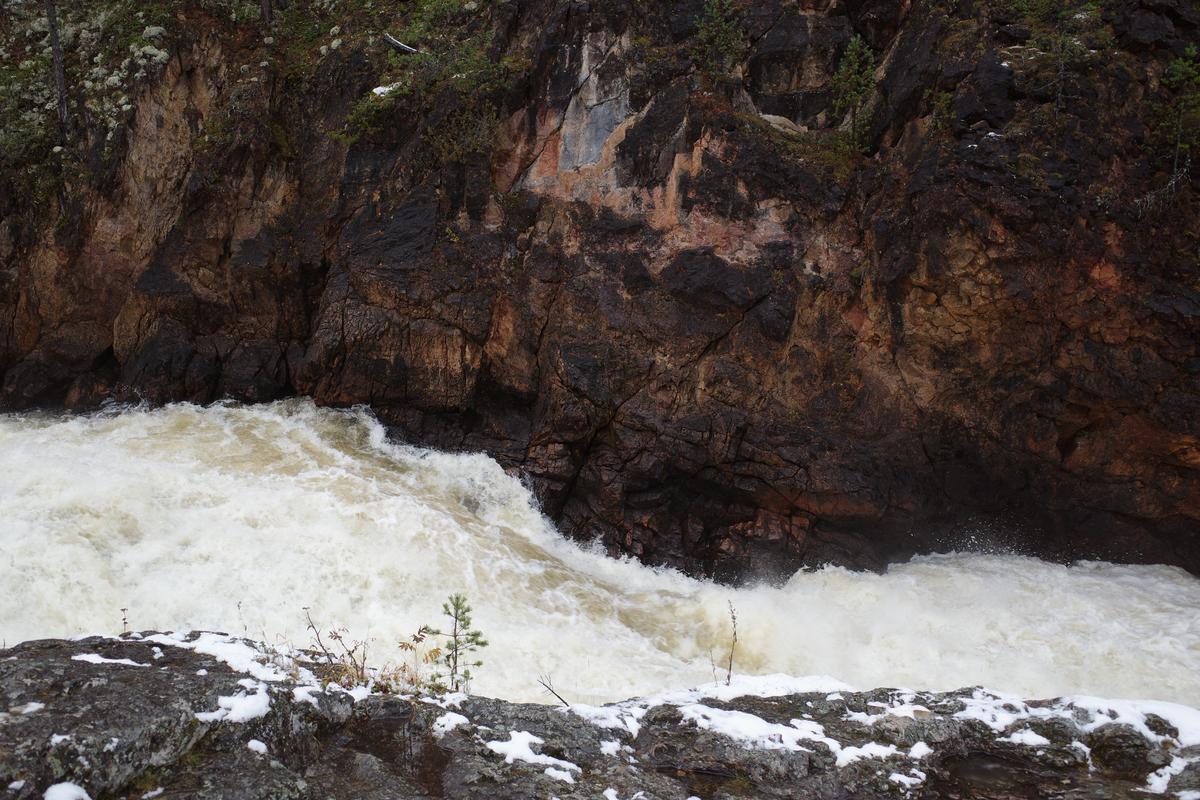 After the rapids, the trail was flat and in great condition. I even reached my top speed of 5 km/h. I made it easily to the next hut, Ansakämppä. There I had a dinner and was considering continuing to Jussinkämppä. While I was washing the dishes, a woman walked in and informed us that Jussinkämppä was going to be full of people and dogs. People are fine, but five dogs is a bit much. I decided to stay.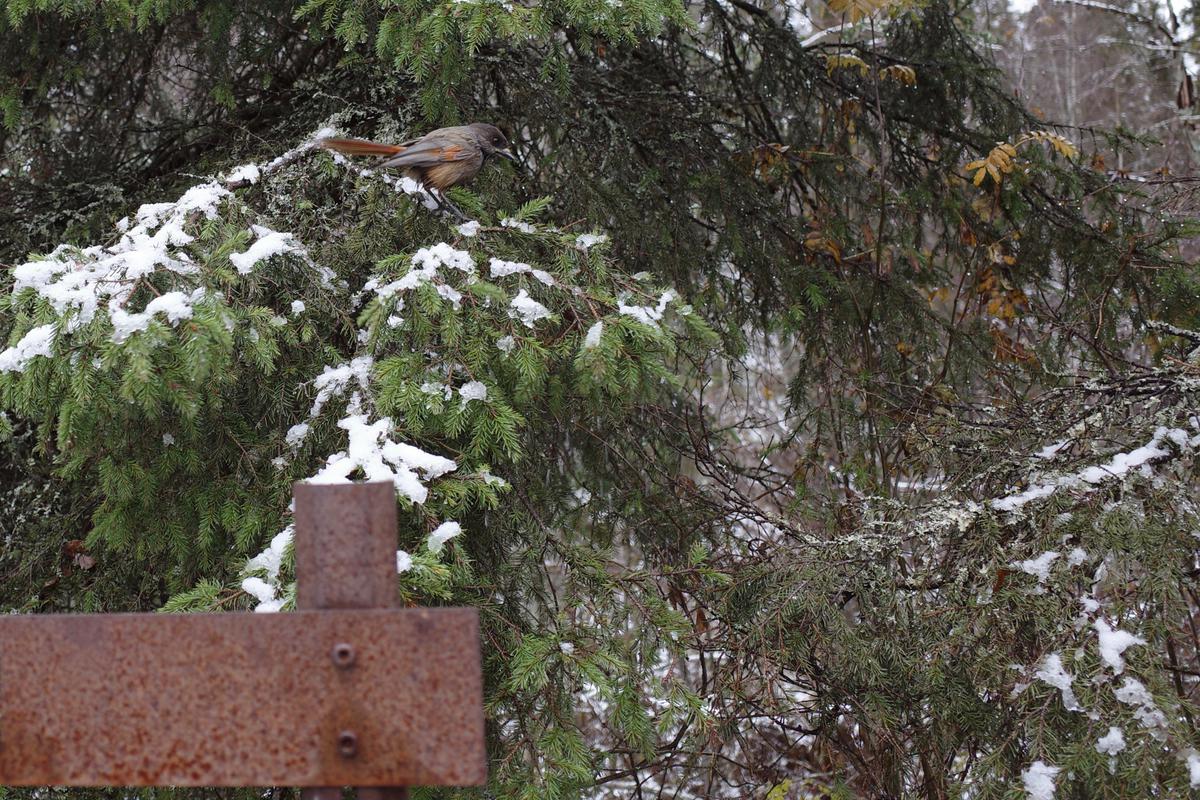 This is the second part of a series about hiking Karhunkierros. Read part 3.