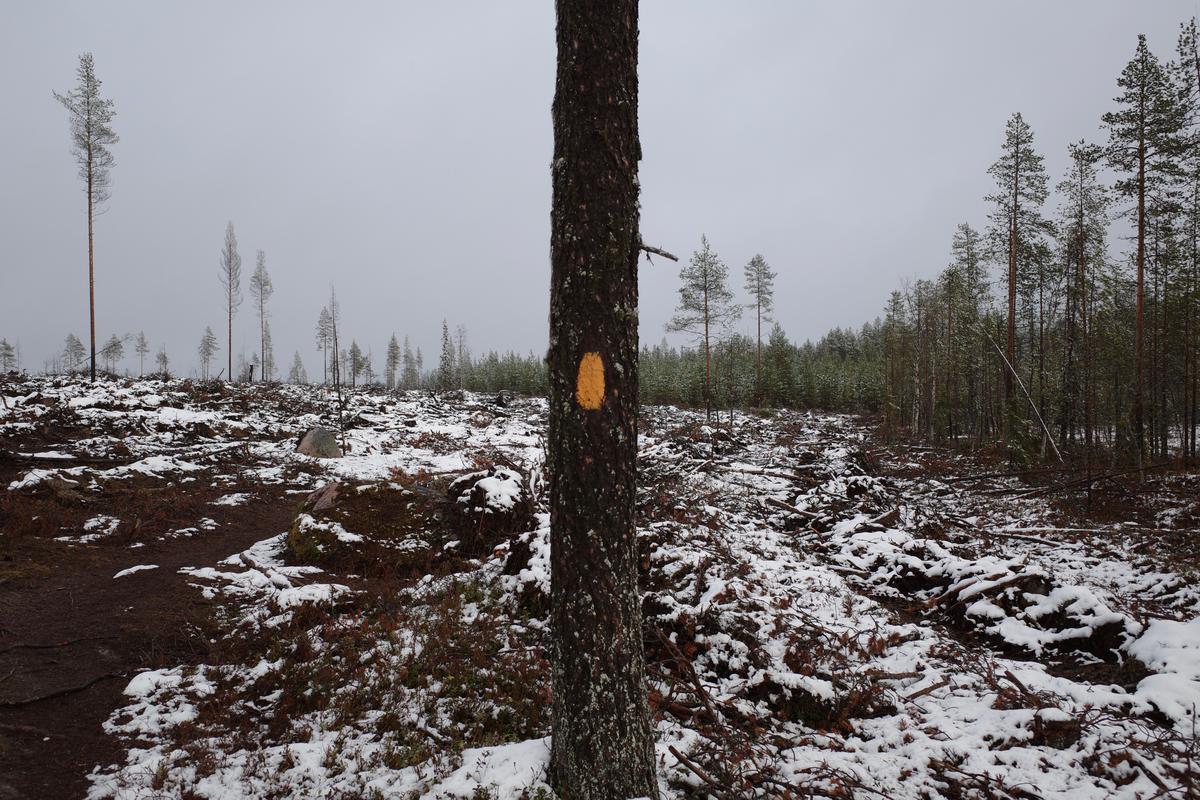 Last week I hiked the Karhunkierros trail. To summarize, it was dark and wet but not very cold.
Karhunkierros is a 82 km hiking trail in Northern Finland. The southern end of the trail is at Ruka skiing resort in Kuusamo and the northern end is in a small village called Hautajärvi in Salla. Usually people start at Hautajärvi.
I wanted to do my first longer solo hike and Karhunkierros seemed like a good choice: the length is suitable for a week-long vacation and the trail is well-marked and has good services. There's a string of wilderness huts and lean-to shelters and you can get to the trailhead by public transport.
Karhunkierros is the most popular hiking route in Finland. This has some downsides. It's cramped on-season and the trail has been worn out by the heavy traffic. An upside is that if you get in trouble, there's a good chance that somebody will walk by.
October is off-season, in theory, except that I picked the autumn school holiday week of Southern Finland. The Ruka slopes had been just opened and there were dozens of skiers dayhiking and doing overnight trips. I stayed three nights in huts and they were almost full every night. If you're looking for some alone time, you should go somewhere else.
Day 0 - from Helsinki to Oulu
My trip got started on Sunday night. I had briely considered flying to Kuusamo, but you can't take gas canisters to the plane. Avoiding flying is good for the climate anyway. Thus I went to Helsinki railway station, took a photo in Minuuttibaari, and stepped on the night train to Oulu.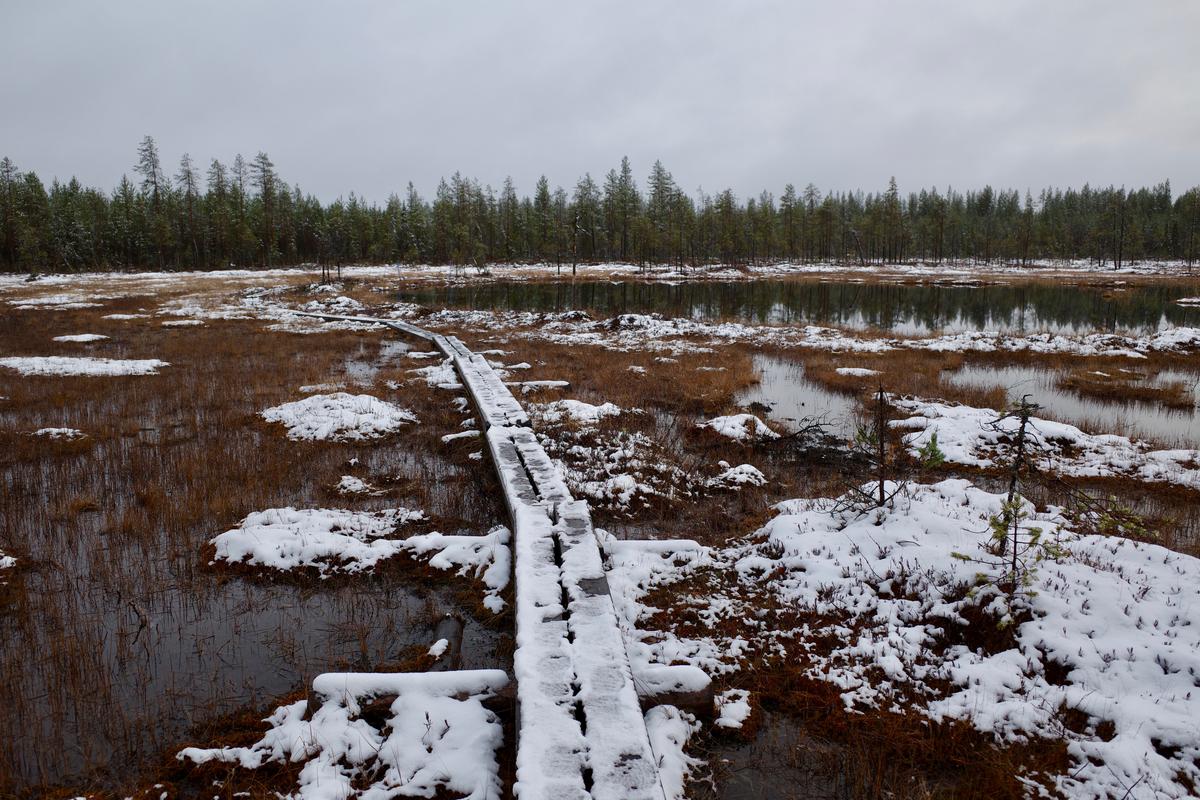 Day 1 - from Oulu to Perttumakoski lean-to – 7 km
The next morning in Oulu, I took a bus to Kuusamo. There's not much going on in Kuusamo, but I had time to eat a vegan lunch at Karpalo. According to their home page is the most northern vegan restaurant in the world. Is it really? I don't know. The food was okay.
From Kuusamo, I took a bus to Hautajärvi. It's marketed as the Karhunkierros bus, but turns out it's also the school bus for the local kids. There were me, two couples with backpacks, and a dozen of 15-year-olds taking the Karhunkierrobussi. The bus took me right next to the trailhead in Hautajärvi and at around 16:00, I started walking.
The walk took me through some marshes where I first heard and then saw two Siberian jays. To my surprise, they allowed me to get right next to them. Later on I saw multiple groups feeding the jays – not so big surprise after all!
After seven kilometers of walking, I reached the Perttumakoski lean-to shelter right before the sunset at 17:45. I felt that it'd be nice to have a bit more privacy than a lean-to offers and so I pitched my tent. It became dark and it started snowing while I was pitching it and it took me a while to get it right. The tent has color-coded ribbons in the corners, but of course I forgot about this. Pro-tip: if you plan to pitch a tent with the rain fly first so that the inner tent keeps dry, better practice it at home.
I cooked a quick dinner, read a book for a couple of hours and started to sleep.
In the spring, I had bought a new synthetic three-season sleeping bag, Marmot Trestles Elite Eco 20. This was the first night where I tried it anywhere close to freezing. Even though it was barely freezing and the bag's comfort rating is about 0 °C, I woke up to put on more clothes a couple of times. Honestly, it was disappointing. I'll be on the market for a nice warm down bag.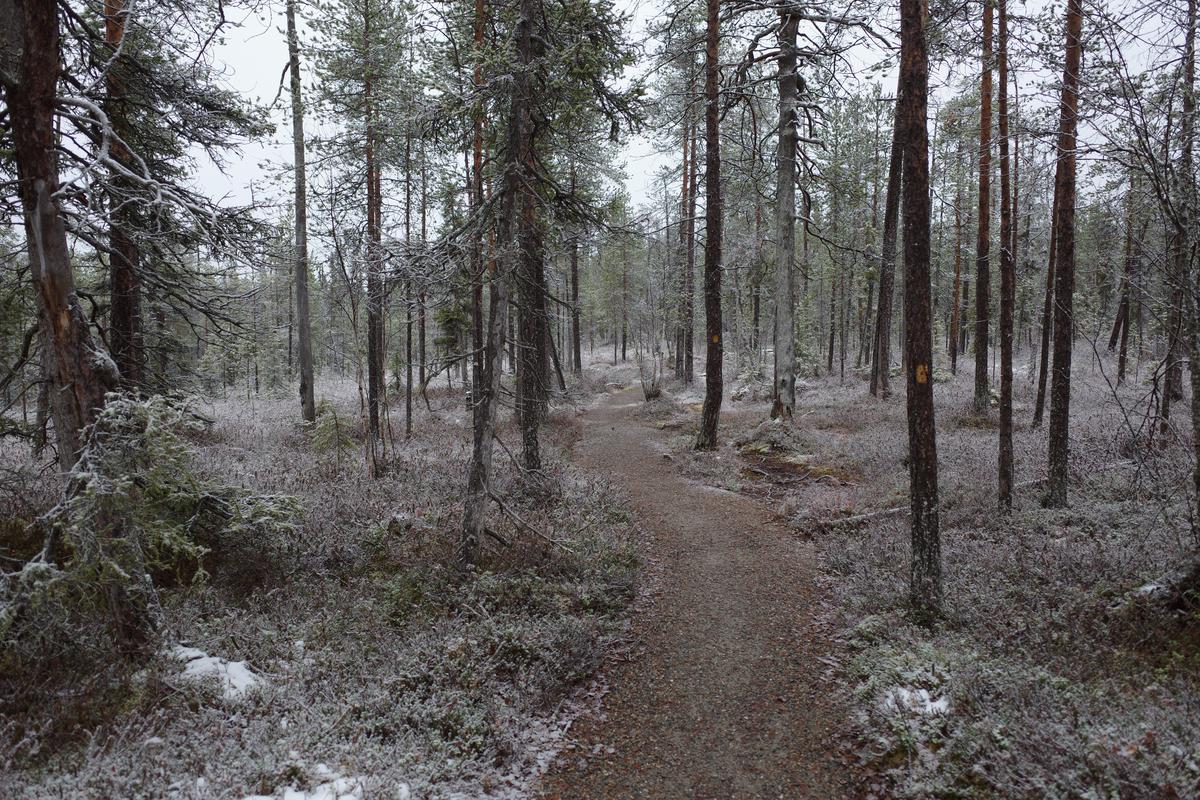 This is the first part of a series about hiking Karhunkierros. Read part 2.