This post continues from where part 3 ended.
How did I get home from Ruka? I took a taxi to Kuusamo, took a bus to Oulu, had decent palak paneer at Garam Masala right next to the railway station, and took a train to Helsinki. It took me 12 hours in total. Boring and uneventful.
Cooking with Andrew Skurka
I read Andrew Skurka's blog before the trip and got inspired.
I used his Fast & Light stove setup for cooking: a tiny FireMaple gas burner, a 0.9 litre pot, a 2.5 dl cup and a large plastic spoon. This is simpler and lighter than the Trangia I've used before, but I didn't miss anything. The only downsides were that you couldn't boil water at while you were eating and the gas burner was a bit slow in the cold weather.
I also tried a couple of Skurka's recipes:
Peanut sauce & noodles is great and a nice departure from "red hiking meal" genre. A friend tried it out with her scout group. Apparently the taste was too weird and the recipe was too vegetarian for Luvia teenagers. But I, with my more metropolitan taste, will definitely use this recipe again.
Pesto noodles wasn't anything special. Not awful, but probably won't use it again.
Oatmeal with fixings was nice. It's not exactly a unique idea, but I liked the Skurka version.
I didn't try his beans + fries with Fritos & cheese recipe because WTF even are Fritos, but apparently it's so good that it's an Internet meme. Maybe next time.
I assumed that I need 3000 kcal per day and prepared 800 kcal portions for lunch and dinner. This turned out to be too much. I just couldn't eat such a large amount of food in one go and had to start splitting the portions in half. Next time I will go with 500 kcal meals and add more snacks to have enough calories.
My trip was one day shorter than expected, I split some of the portions, and had one meal at a restaurant, Because of all of this, I'm confused about whether the 3000 kcal estimate was right. It was in the right ballpark, at least. The food weighted about 750 g per day.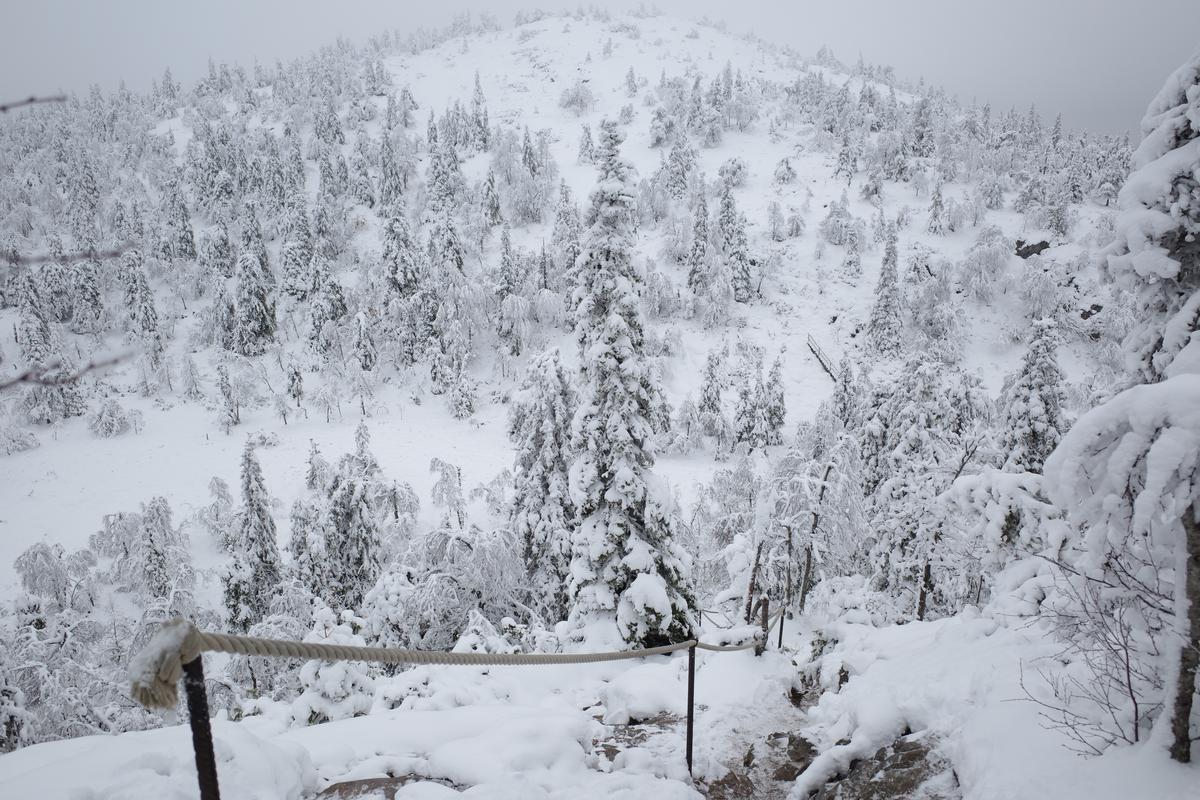 In conclusion
I'd like to do a bit longer trip the next time. It took me almost two days to get in the proper hiking mood, but once I was in the mood, I could've continued for a couple of days more. I'm going to look for a 120 km hikes the next time.
Would I recommend Karhunkierros? It's a good destination for inexperienced hikers like me:
You can stay at the huts and the lean-to shelters.
Water is easily available from the river.
The trail is marked well – there's no risk of getting lost.
The trail is easy to get to using public transport.
Great sights!
The downside is that it's very popular during the season. Off-season, the winter is harsh, so you need to know what you're doing.
I think it's suitable for a 4-6 day hike for people of average fitness. You can adjust the number of days based on your fitness, skill level, and how easily you get bored when you're not walking. If you're in a hurry, take part in NUTS Karhunkierros trail running competition and run it in a day.